Holiday cards can be a tricky thing.
There are so many choices to make…
What card company to utilize to create that photo card?
Should you include a letter or personal note?
Handwrite or print labels?
Even the stamps have to be selected…Mary & Jesus? Ornaments?
Our photo card has switched to a New Year's card over the past few years. 
It happened by accident.  I think it was the year Charlotte was born…I just couldn't get the darn card out in time.  So I included pictures of the kids with Santa and their Christmas presents and changed the message to "Hope your holidays were magical!" and sent it the first week of January.
That year I got more responses about my card than ever.  So the decision was made…bye-bye Christmas cards and hello New Year's cards from then on.  One less thing to worry about during the holidays.
We receive a lot of cards each year.  Due to many layers of friends for both of us…high school, college, grad school, Nashville, Birmingham, neighborhood, church, working at different companies, etc. and a large extended family…there are many to send out as well.  I've narrowed it down to 100 cards.  And each year the decision is made…who to add?  And, therefore, who to cut? 
While I was working on our cards, I came upon a great post at My 3 Little Birds called Silent Night.  She has such a great point about her mind wandering to the unwritten.  What people don't put in cards.  Or the ones that never arrive.
And so when I went through our list of addresses this year, I also thought long and hard about the people on the list.  Those who won't return a phone call or email, but keep sending the obligatory card.  Those who live far away but remind us of great times had together.  Those who are more like family than friends.  Those who are family yet I know so little about.  Those whose card arrived and everyone looked so happy, but the realization of life right now is so sad.  Of new friends and old.  Cards we received from people for the first year (we were an addition to their list) and cards we looked for, but never came (we were cut). 
Usually it's just a task to complete, but this year I really enjoyed it. 
And for those of you who didn't see our card in your mailbox…here it is: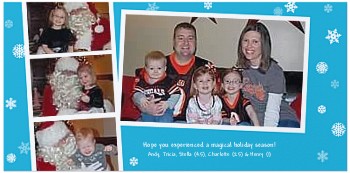 Sparkling Snowflakes Christmas